Chinese tourists are big spenders and with the numbers visiting Europe set to soar by nearly 70% over the next five years, European countries are rolling out the red carpet to make the guests feel welcome.
A total of 12.4 million Chinese tourists, mostly in guided tour groups, came to Europe in 2017, according to the European Travel Commission (ETC). The Chinese Tourism Academy (CTA) is expecting the number to reach 20.8 million by 2022.
According to Ctrip's airline ticket sales data, Europe was the second most popular destination for Chinese tourists, accounting for 9.3% of the total.
In 2017, political and economic situation in Europe eased. Compared to the previous year, the number of Chinese tourists who traveled to Europe through Ctrip increased by 26.3%, while per capita consumption at destinations increased by 36%.
On one hand, tourists have higher demand on the quality of travel services and personalized tourism experience, paying more and more attention to the comfort of tours and enjoyment of high-end services. They are also willing to explore different forms of tourism and travel products. On the other hand, the appreciation of Euro made tourism and destination expenditures more expensive for Chinese tourists.
The most popular European destination countries were: France, Italy, United Kingdom, Spain, Germany, Russia, Netherlands, Switzerland, Greece and Austria. The most popular destination cities in Europe were: Paris, Amsterdam, London, Rome, Frankfurt, Barcelona, Moscow, Milan, Madrid and Prague.
The top 10 countries with the largest airline tickets sales in 2017 were France, Germany, the United Kingdom, Italy, Spain, Russia, Greece, Netherlands, Switzerland and Czech Republic. Among the European destination cities with the most hotel room nights, Paris, Milan, London, Frankfurt, Amsterdam, Madrid, Lisbon, Barcelona, Moscow and Prague ranked highest.
According to Ctrip European package tour sales data, 2017's the most popular European destination countries for group tour were: Italy, Russia, Germany, United Kingdom, France, Spain, Greece, Czech Republic, Switzerland and Hungary.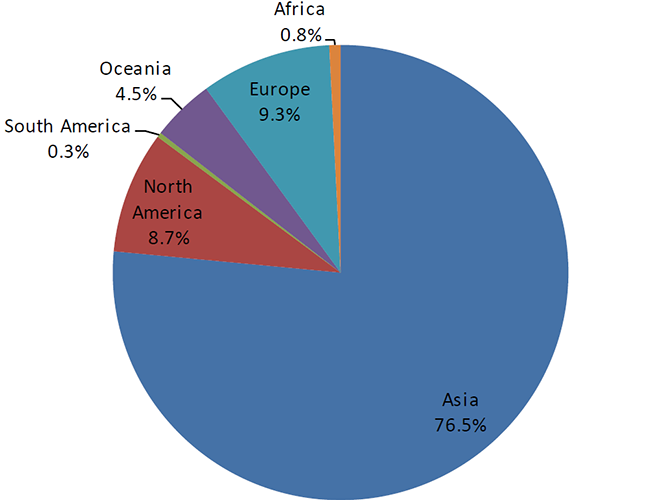 In 2017, most tourists were female, accounting for 54% of the total. This was a 13.4% increase since 2016. The number of male tourists increased more slowly at 2.5%
30-40-year-old demographic is the main force of European tourism. This age group has higher income and greater purchasing power. Much of this age group travels with family and have higher demand for high-quality travel services and comfortable experience.
Summer (May–September) is the peak season for traveling to Europe. Tourists during summer accounted for 52% the annual total.
The top 10 departure cities for Chinese tourists traveling to Europe in 2017 were: Shanghai, Beijing, Guangzhou, Shenzhen, Hangzhou, Wuhan, Chengdu, Nanjing, Chongqing and Zhengzhou. Most of them boast advanced economies. The cities with largest increase of tourists in 2017 were: Shanghai, Beijing, Guangzhou, Chengdu and Chongqing.
In 2017, 57% of tourists to Europe booked via mobile channel on Ctrip. Since 2016, the number of APP subscribers increased by 40%, an increase significantly steeper than other channels.
Some 62% of tourists traveling to Europe visited it once in 2017 and 17% traveled to Europe twice. High-frequency tourists accounted for a low proportion, due to the long flight time and high travel cost.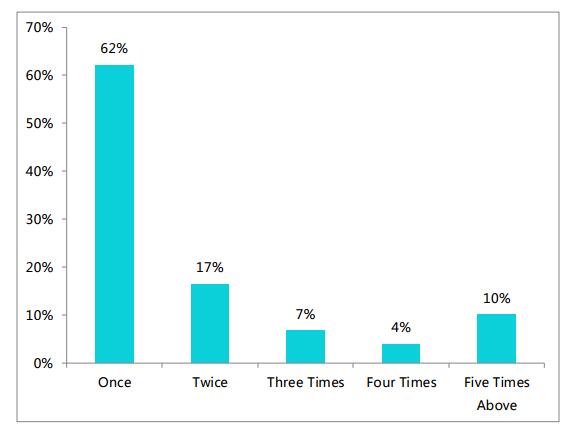 Among European hotels booked on Ctrip, 86% were hotels with three or more stars, a 66% increase since 2016. Four-star hotels were the most common, accounting for 44%, a 69% increase since 2016. Five-star hotel saw the fastest growth – 72%. This implies that Chinese tourists' preference for high-end hotels is rising. Tourists' spending power is getting stronger, focusing on travel experience and comfort.
Summary
In 2017, both the number of tourists traveling to Europe and the per capita consumption at European destinations had relatively high growth rates.
Chinese tourists prefer humanities and arts attractions and have pronounced preference for art exhibitions such as traditional European buildings and museums. Due to the high cost of travel, most tourists travel to Europe at low frequency and stay for a long time during each visit. Most of the tourist routes includes more than three countries. The demand of high-end tourism products increased significantly, due to greater emphasis on comfort and personal experience of travel.
Self-coordinated group tours are growing rapidly. More tourists are not satisfied with the traditional traveling routes. They seek for leisure travel with greater freedom and are willing to explore new things.
Read Original Report