Skift analysis shows only 5 websites out of 17 gained market share in US hotel bookings from May 2016 to 2017. 4 out of the 5 websites are OTAs. The one hotel provider that gained share, Wyndham Hotels had a strong growth but still from a very small market share base. Booking.com had a strong year over year growth of 22%. Marriott and Hilton had decreases of 37% and 6% respectively.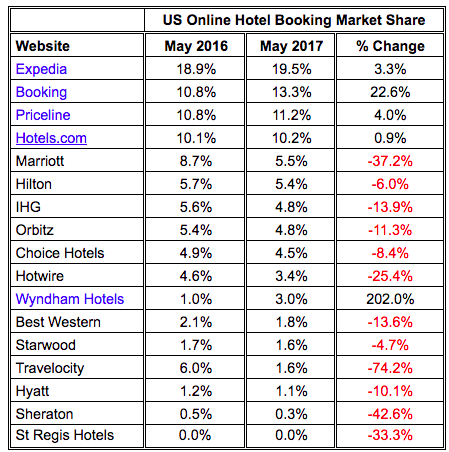 The hotels' direct-bookings marketing campaigns do not seem to have slowed down OTAs. Several elements underline OTA's strength.
In terms of number of properties, Marriott has 0.5% of Booking.com's. There is a higher likelihood of a customer finding the right product in an OTA than in a hotel website, which translates into a higher conversion rate. This better conversion rate has a big impact on OTAs ability to invest profitably on Google and other customer acquisition partners.
Expedia invested $4.3 billion and Priceline $3.8 billion in marketing in 2016. Hotel suppliers cannot compete at this scale. Skift estimates Marriott's annual marketing spend in 2015 at only $100 million. In 2016, Marriot only spent around $1 million in its high visibility "It Pays To Book Direct", according to a report.
In Search Engine Marketing, scale and range of campaigns matter a lot. In non branded search, OTAs will always dominate suppliers because of their larger inventory and larger scale campaigns which drive critical mass. Even in branded search (searches that include a hotel name), OTAs also have a very prominent position.
OTA's mastery of online marketing and customer acquisition brings them tremendous scale. According to data from Similarweb, from September to November 2017, the world's largest hotel OTA (Booking.com) had 1137 million desktop and mobile visits. The world's largest hotel chain (Marriott) had 97 million visits — 8.5% of Booking.com's.
The accommodations product category is becoming increasingly complex. It includes hotels, hostels, apartments, rental properties, villas, shared accommodations, etc. This is the environment in which retailers bring value: they aggregate product and offer it under one roof and with a great user experience.
For some of the reasons explained in this post, it will be tough for hotels to compete head on against OTAs at what OTAs do best: customer acquisition. However, hotels have direct control on guest experience and on earning future customer loyalty.
Hotels have a clear edge over OTAs on the fact that customers spend days/weeks experiencing the hotel brand and interacting with the hotel. Focusing more on building unique brands and superior guest experiences seems like a better investment than competing against OTAs in customer acquisition.
Read original article