At a gathering of Airbnb hosts two weeks ago, CEO Brian Chesky fielded a question he gets frequently: Why is the company allowing professional real estate investors and commercial property managers to list on the site? In response, he said the company needed to be "more inclusive of who belongs on Airbnb," but emphasized the company wasn't "leaving our roots."
That will continue to be a fine line for Mr. Chesky to try to walk, even as Airbnb has grown into a travel-industry heavyweight and prepares for an IPO, likely in 2019. Growth of listings is slowing in some of Airbnb's biggest cities, pushing the company to look for revenue from traditional hospitality ventures. It's an effort that sometimes collides with the company's upstart image.
Airbnb is profitable, unlike many big private tech companies. It has about $3 billion in cash and is seeing healthy revenue growth, according to people familiar with its financials. Still, investors, former employees and others close to the company identify supply constraints as a potential red flag that could hit business growth just as Airbnb prepares to go public.
Growth of available listings has waned significantly this year in key markets like Paris and London (see chart below), putting pressure on the company to find new ways to increase inventory in those cities and in other markets where they have a smaller presence.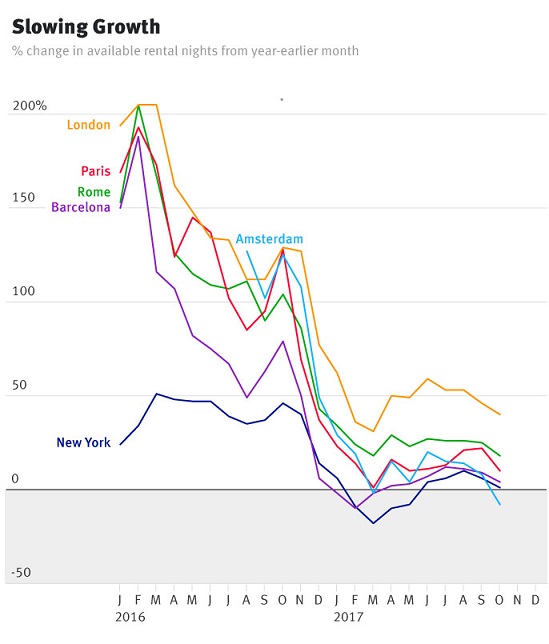 The proliferation of real estate investors and other professionals operating on Airbnb has been a sore spot for years for many hosts, who decry the competition. But Airbnb has embraced professionals—managers of vacation homes outside big cities, boutique hoteliers and new startups managing high-end apartments as short-term rentals—more than ever this year as it searches for new ways to grow the number of rentals available on its site.
Airbnb is valued on paper at $31 billion, but executives hope it will be valued at twice that on the public markets, according to people who have spoken with them.
The company is embracing hospitality professionals in other new ways: It has built new tools for property managers who operate hundreds of listings on the site and even started experimenting with branded apartment buildings. Airbnb also is bidding for Europe's biggest vacation-home operator, a division of Wyndham Worldwide. (Bloomberg first reported Airbnb's interest in the Wyndham business.) That could help Airbnb grow its market share in Europe of private accommodations—which includes short-term rentals, time shares, villas and cottages—from its current 16%, Phocuswright estimates. In the U.S., Airbnb's market share in that category is 20%.
Read original article