European tour operator Thomas Cook is targeting revenue of $133.6 million (£100 million) from its nascent Chinese business in the next few years as it looks to make the country a "sizable part" of its overall business.
Thomas Cook China has taken 20,000 Chinese consumers on vacation since its launch last year, a tiny group compared to its European source markets, but the company believes there is plenty of room to grow; the company aims to serve 200,000 Chinese consumers in the upcoming year.
Replicating the European model
The tour operator model, where travelers are sold a package of airline ticket and hotel accommodation, is largely confined to Europe due to a combination of affluent consumers and cold climate.
There's no reason though why it couldn't be copied in China, according to Thomas Cook.
"Package travel has remained a largely Northern European concept to date, however China makes sense as a growth market: its major cities do not have reliably hot weather, there are plenty of affluent people willing to travel, the Chinese get plenty of holiday, and there are enough sunny beach destinations within striking distance," wrote brokerage firm Bernstein in a report on the Chinese travel market. "Furthermore the Chinese have a heritage of organized travel; previously done in groups they are migrating to individually booked travel."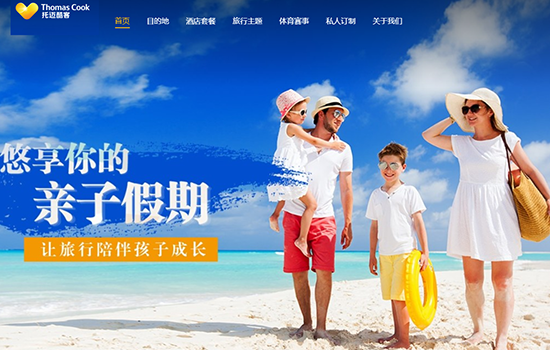 Local competitors
Thomas Cook and its European rival TUI Group are still small time players in the Chinese market (Bernstein estimated that Thomas Cook had a 0.0007 percent share of the market in 2016).
This puts them at a distinct disadvantage, especially when compared with behemoth that is Ctrip.
"In terms of outbound travel, Ctrip and Qunar are the leaders in terms of your ticketing and then Ctrip as well as Booking.com and also Agoda in terms of hotel booking," said Tony Jiang, co-founder and partner of private equity firm Ocean Link in an interview with Skift Research. "Ctrip is actually doing a very good job in terms of global expansion as well."
Package tours represent around 12 percent of Ctrip's overall business and it has made growing outbound tourism a key part of its overall strategy. There are also other competitors as well such as LY.com, which Ctrip is an investor in, and Meituan-Dianping.
With the strength of the local market it seems difficult to work out how Thomas Cook can succeed. Any opportunity is likely to lie in its extensive network of owned brand and partner hotels.
Read Original Article