In the battle to fill their seats with high fliers, the world's top airlines are rolling out evermore luxurious options for top-tier travelers. Singapore Airlines Ltd. on Thursday unveiled its first major overhaul of cabins in its double-decker Airbus A380, with an emphasis on space - and double beds.
Wardrobes, luxury bedding and bathrooms are blurring the lines between flying and the five-star hotel experience for passengers occupying suites. Even business class passengers will be able to snuggle up with a loved one, with double bed conversions available in the middle aisle. Passengers traveling on the Singapore-Sydney routes from December 18 will be the first to experience the luxury upgrades.
With the number of suites pruned to six from 12 for the most premier of customers, there's space to fit in an actual flat bed, alongside a separate seat with leather upholstery by Italy's Poltrona Frau. The beds in the first two suites of each aisle can even be made into a double bed for couples traveling together. There's plush bedding and a fluffy duvet with embroidery by French luxury label Lalique.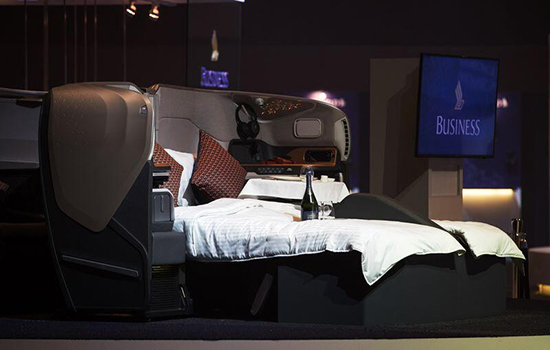 Suites also have a full-sized wardrobe and two bathrooms, one of which has a sit-down vanity counter. Unlike on rival carrier Etihad Airways PJSC, there won't be a shower though. Singapore Air says its cabin changes were based on customer feedback seeking more private space and a design with convenience in mind, such as having phones and glasses within easy reach. Hence the added touches like customized handbag stowage and an amenity box.
The 78 Business class seats, each 25 inches wide, are upholstered by the same Italian firm. These recline directly into a full-flat bed of 78 inches, and the center divider can be fully lowered to form double beds.
The flag carrier is spending USD 850 million on the overhaul across 19 of the superjumbos, including 14 currently in its fleet. The five new planes will be progressively delivered starting next month.
Read Original Article